Announcements
The licensed pest control company contracted by UDAF completed the first round of turf treatments in the Insect Emergency Infestation area in late April.  High-density trapping in the area finished in early June.  State insect trappers will be checking the traps on a bimonthly basis to look for JB from late June to September of this year.
The Commissioner of Agriculture has declared an Insect Emergency Infestation Area in Salt Lake County.  Letter from Commissioner Gibson – (

March 12

th

, 2020)
Background
In 2019 the UDAF Invasive Insect Program detected 36 Japanese beetles in Salt Lake County.  The program has not detected this many beetles for more than a decade. To ensure that the Japanese beetle does not become established in the state, UDAF has declared an emergency and has prepared an eradication plan.
Maps of planned treatments: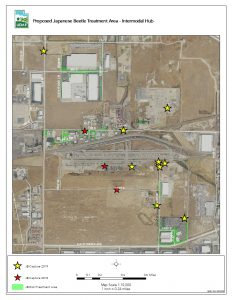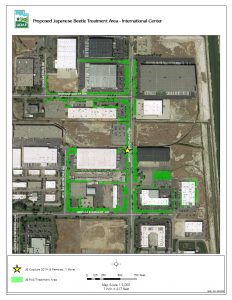 Safety and pollinator protection
UDAF has selected imidacloprid, a non-restricted use pesticide, for the project. The pesticide is proven effective in controlling JB and it has low-mammalian toxicity (safe for people and pets). The pesticide is for sale to the general public and is a commonly used product.
State pesticide enforcement officials will supervise pesticide applications to ensure that all federal and state rules are followed so that residents, water quality, and the environment are protected. The state Apiary Program will notify area beekeepers in advance of applications and train the pest control company in best practices for pollinator protection.  See attachments for further details.
How to help 
Residents that would like to help with the effort to keep Utah Japanese beetle-free are asked to become familiar with identifying the insect and reporting any sightings to UDAF. Identification information can be found in the eradication information flier below.
Documents for residents within infestation area
Historical trapping and Japanese beetle detections
From 1996-2005 approximately 500 Japanese beetle traps were placed annually.  In 2006 a large population was detected in Orem, which was later eradicated.
Below is a chart of historic trapping data from 2006 to 2019.