UDAF's International Trade Program facilitates the connection of local businesses with prospective buyers abroad through a number of support services. A key component of much of this work is our connections with local, state, regional and federal export assistance partners. With expertise ranging from market research to due diligence on interested buyers and business to business  matchmaking, these connections provide valuable resources to Utah businesses big and small. 
Often, these partners will provide insights on potential trade leads and referrals. Last October, Dan Bruner with the U.S. Commercial Service contacted UDAF with a trade lead from a buyer in New Zealand. The buyer requested vegetable seeds from a U.S. company with phytosanitary certification as New Zealand requires plants and plant products to be verified free of pests and disease. Based on these criteria, referrals were made, including one to Salt Lake City-based company, True Leaf Market.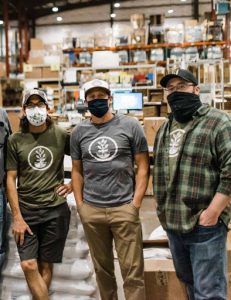 True Leaf Market is an organic seed and horticulture company whose product lineup includes heirloom vegetable seeds, flower seeds, herb seeds, wheatgrass and garden supplies. Because their products and certifications matched what the buyer was looking for, the referral was a success. 
Something important to consider when exporting is to understand the country-specific requirements and certifications needed in an international market of interest. It is difficult to anticipate the timing of a trade lead, but by understanding requirements and how to obtain proper documents and certification, companies are able to stand ready when such opportunities arise.
Often, trade leads are time-sensitive and are awarded to those who respond quickly. Within a few days of the initial referral, True Leaf Market's Parker Garlitz was in contact with the buyer and had worked with UDAF to set up meetings with export assistance resources to facilitate this and future exports. "We fully expect to continue doing business with this company in the future and our business is really appreciative of the referral. It's all been fantastic." – Parker Garlitz, True Leaf Market
UDAF works with local agriculture & food companies to issue Phytosanitary Certificates, Certificates of Free Sale, Certificates of Origin, and Good Manufacturing Practices Certificates. For more information, visit the International Trade Program page contact Calli Forsyth, callinielsen@utah.gov, 385-549-7987.
Return to the January 2021 Cultivating Connections newsletter here.
– – –